If you became homeless... what would you do?

CHANGE is an emotional homeless survival experience set in a randomly generated city with rogue-like elements. Explore, survive, earn perks, find items and more to develop your character and escape to a new life.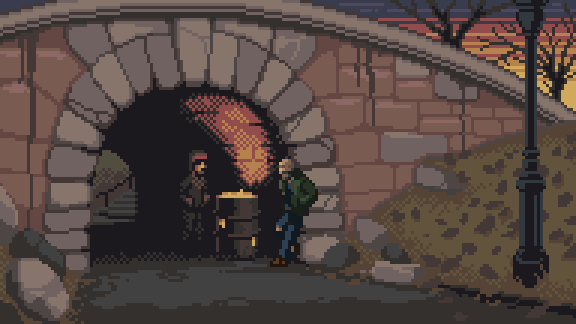 20% of Delve Interactive's profits from this game will be donated to charities focused on the issue of homelessness.



An endless city to explore filled with randomly generated items, events and environments, unique to every playthrough


Develop perks by experimenting with different methods of survival


Beg, busk or work your way to finding a new home


Randomly generated "night events" lets you develop your own abstract story


Find companions, find shelter, find kindness


A complete weather system will force you to adjust your survival strategy in rain and snow


Build your own inventory with food, items for survival and more.


Unlock new items for your next playthrough as you progress


Buy items or steal from shops, spend a night in police stations, parks or shelters, spend time at bars, visit the clinic, study in the library, recycle scrap and more as you discover new areas and buildings


Experience a beautifully composed emotional soundtrack
Manage your hunger, hygiene, happiness, crime levels, street reputation, study levels and other stats as you try to survive and escape the homeless life.
But you can only do so much in one day... what will you do? Will you spend the day begging, depending on the kindness of others?
Will you find shelter in the night?
Perhaps you're moved out of the area by the police for loitering. Unable to find shelter, you end up on the streets at night, and you meet a dog. Is it a stray? Could it be a friend? All your actions affect your happiness in some way, and it's up to you to manage your stats accordingly. You could turn to drink, but risk addiction. You could hope for a fortunate event, or make some progress towards your survival.
But you will have to choose. It could all be over if a bad event occurs in the dangerous night streets. Especially during winter.
Every run is different, and with each run comes more ways to explore CHANGE.
PLANS
Our goal with this project is to raise awareness on the issue of homelessness, as well as raise money for it. We have done a ton of research for this project and while our wish is to portray the reality of homelessness, various aspects of sleeping rough have been abstracted for the sake of gameplay. We hope you'll support us during our early access journey as we quickly approach the full release currently planned in January.
Join us in the community section to discuss the game with the team!